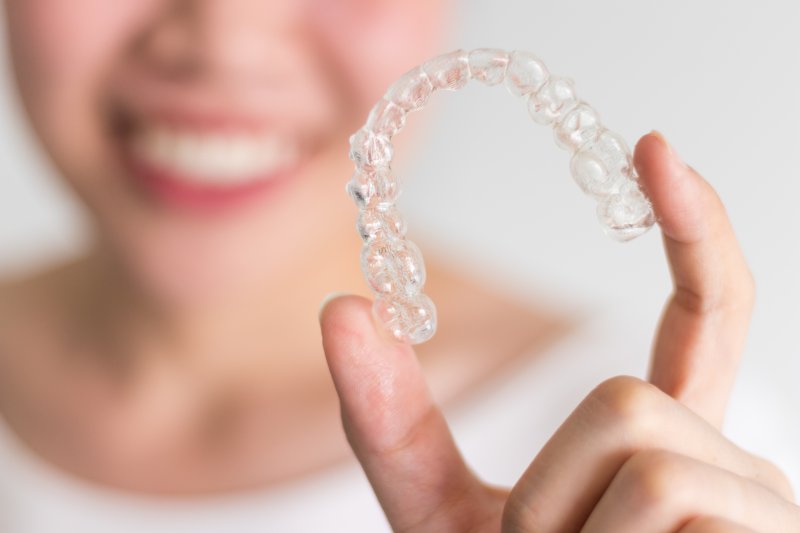 The benefits of Invisalign are many, and while you may think that its only real advantage is that it is clear and practically invisible to others, it offers far more than you might imagine. These clear aligners may be small, but they prove to be a superior option for busy professionals, stay-at-home parents, and self-conscious teens.  Read on to find out more about the advantages of these clear aligners and what you can expect while working toward a new and improved smile.
Invisalign Isn't Permanently Attached
Traditional brackets are bonded to your teeth. Invisalign clear aligners are not. As a result, you will enjoy a more flexible method of treatment that allows you to remove your trays before eating, drinking, and cleaning them throughout the day. You can also remove them for a short period if you need to give a presentation or are serving as a member of the wedding party your best friend's wedding.
There's No Wire to Move Your Teeth
Instead of relying on a metal arch wire to shift your teeth into proper alignment, Invisalign uses clear aligners that are designed using SmartTrack materials. This ensures more predictable movements and treatment. You'll also appreciate less discomfort because there will be no wire to tighten, adjust, or change out when you visit your orthodontist.
Oral Hygiene Maintenance is Much Easier
With traditional braces, cleaning around your brackets and wires can be difficult. Fortunately, with Invisalign, oral hygiene maintenance is easier than ever! All you need is clear soap, lukewarm water, and a soft-bristled toothbrush to effectively clean your trays. Not to mention, you'll be able to thoroughly brush your teeth, floss, and rinse without maneuvering around affixed braces. Unless you prefer a particular instrument or product, there is no need to purchase additional cleaning materials while wearing Invisalign, which is a bonus.
You Have Fewer Appointments
With no metal brackets and wires, you can enjoy fewer appointments with your orthodontist. While you will still be expected to maintain regular follow-up visits, these will be significantly shorter in duration because there is no wire to tighten or adjust, and your orthodontist will only need to check to ensure your treatment is moving along smoothly. This means spending less time away from work or other obligations and remaining confident about the future of your smile.
Once you start with Invisalign, you'll discover more and more benefits as time goes on. From the flexibility to the quicker, life-changing results, you'll be glad you chose clear aligners to straighten your smile.
About the Practice
At Smile More Dentistry, our in-house orthodontist is here to help you achieve a straighter, more perfectly aligned smile. Dr. Susan Roubicek is trained and equipped to deliver high-quality care no matter if a patient receives traditional braces or Invisalign clear braces. If you are looking for a subtle solution to fix your overbite or gapped teeth, visit our website or call (845) 675-1512.