Advanced Dental Technology – Tappan, NY
How We Take Dentistry to the Next Level
Dentistry is evolving faster than ever, and the team at Smile More Dentistry makes a conscious effort to keep up with the latest advancements so our patients can always receive the very best that 21st century dentistry has to offer. With the instruments listed below, our team is able to deliver high-quality care more quickly and comfortably than ever before, making it even easier for patients to get the smiles they've always wanted. When you're ready to come experience our state-of-the-art approach for yourself, be sure to give us a call!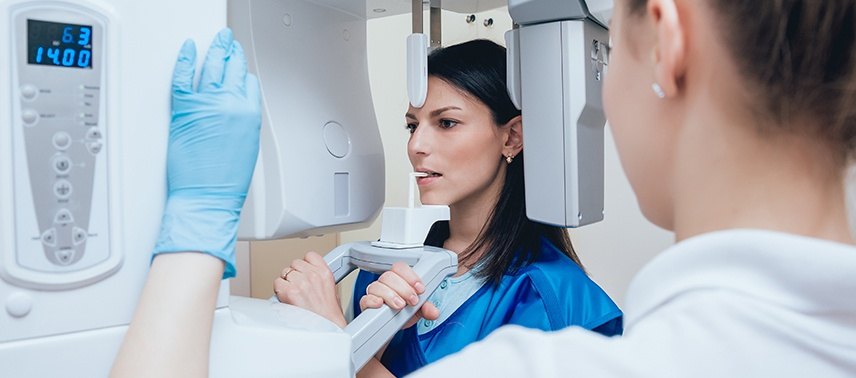 Intraoral Cameras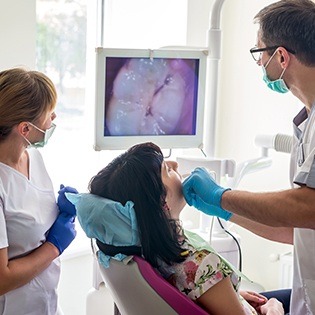 About the size of a pencil, this small device fits comfortably into the mouth where it can capture high-resolution images of the teeth and gums. We can then display these images on a monitor right in the treatment room, helping both you and your dentist get a much better look at your smile. These not only make it easier for our team to spot potential problems but you'll also gain a new level of understanding when it comes to your dental health, ensuring you're always able to make well-informed treatment decisions.
Digital X-Rays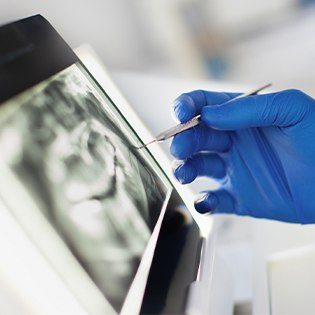 X-rays are a tool we use every single day to catch dental problems that might be hidden below the surface of the smile, but for many patients, the thought of them (or their children) being exposed to radiation from dental X-rays causes them to feel some anxiety. Fortunately, digital X-rays are not only faster and sharper than traditional film, but the process to create them also emits 90% LESS radiation by comparison. Basically, they help us help our patients save both time and stress!
CT/Cone Beam Scanner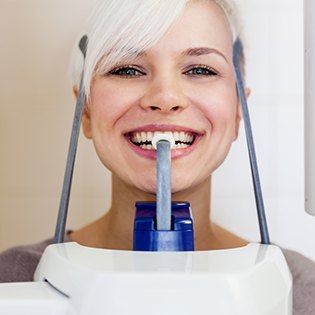 Traditional 2D X-rays are a fantastic tool in dentistry, but sometimes, our team needs more information than what one can tell us about a patient's dental anatomy, such as when we're planning more involved procedures like dental implant placement. With our CT/cone beam scanner, we can literally map out a patient's teeth, jaws, and surrounding oral tissues in exhaustive detail by creating a fully 3D X-ray model. With this image, we can completely personalize a procedure down to the finest detail to all but guarantee success.
Digital Impression System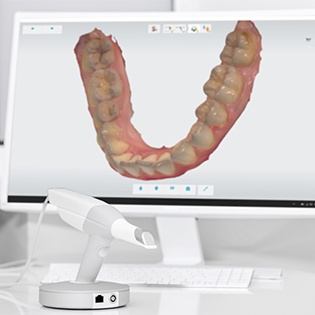 In the past, taking a dental impression was often uncomfortable for patients, as they would be asked to bite down onto cold dental putty for minutes at a time. Thankfully, we're no longer in the past! Using either our iTero Scanner or CEREC Blue camera, we can quickly scan the mouth to create a 3D model of the bite without even touching a patient. The process is fast, comfortable, and yields a perfect impression every single time.
Soft Tissue Laser Dentistry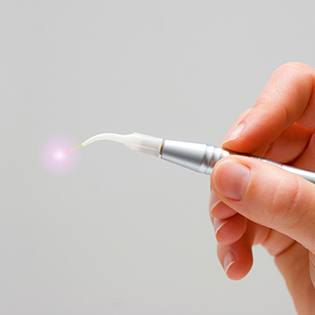 Using lasers in dentistry might sound like science fiction, but it's an everyday reality here at Smile More Dentistry. With our small, handheld soft tissue laser, we can quickly and precisely remove bacteria from along the gum line while keeping a patient completely comfortable. We can also perform beautifying gum lifts to give someone a more balanced and attractive smile. Treatment with the laser is so gentle that most patients don't even require local anesthesia to have a painless experience.
Cavity Detection System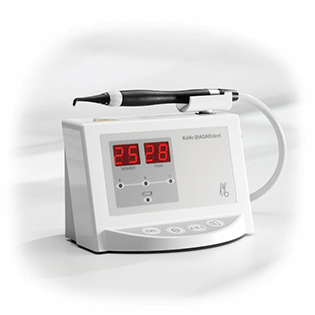 For a very long time, the only tools a dentist had to search for cavities were their eyes as well as a dental pick, which means many went undetected until they became much worse. Fortunately, we can now use the DIAGNOdent system to scan the enamel and detect even the slightest hint of thinning. Today, we can intervene as soon as a problem starts so we can better preserve and protect our patients' teeth.
The Wand™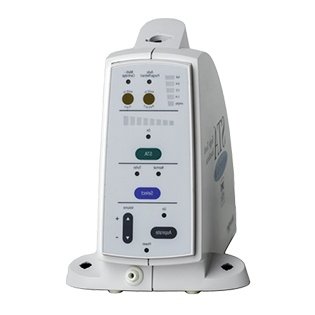 If you hate needles, then you'll love The Wand™. Instead of simply injecting a patient with local anesthesia, this device first applies a topical anesthetic to numb the area, and then the rest is administered much more slowly and evenly compared to a traditional syringe. The end result is that a patient pretty much feels nothing right before they feel nothing, so you don't have to worry about that little "pinch" before your dental treatments anymore.
Dental Patient Amenities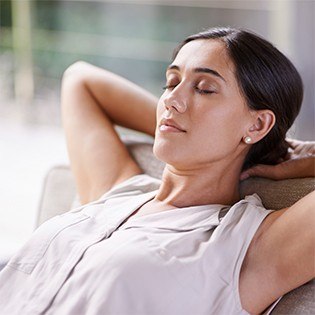 Patient comfort is always one of our top priorities, which is why we offer a number of amenities specially designed to help you feel cozy and relaxed in our office. We frequently have freshly baked cookies in our reception area, and in the back, you'll find plenty of warm blankets, soft pillows, heated chairs, a wide selection of music, and multiple TVs to help your appointment quickly fly by on a cloud of calm.