Community Involvement
Giving back to the community has been a very important part of our dental office since Dr. LaCap and Dr. Tong first opened our doors. As a child, Dr. LaCap's dentist frequently provided her family with free care because they wouldn't have been able to afford it otherwise, and since then, she has dedicated herself to paying this forward. That's why, every year, Smile More Dentistry hosts multiple days where both underserved families and veterans can get complimentary dental services. Our dental office also frequently donates to the Susan G. Komen Foundation to raise breast cancer awareness as well as the St. Jude Children's Hospital.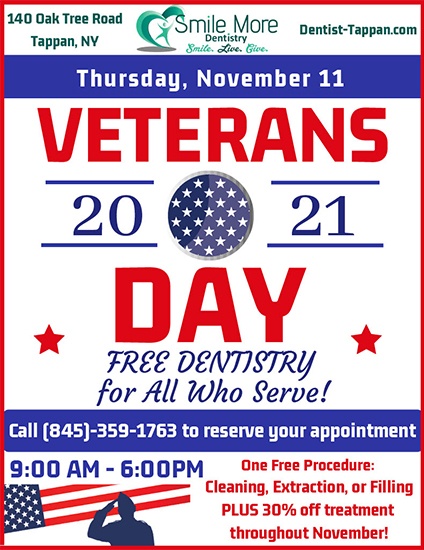 Bergen county dental office offers a day of FREE dentistry for the community.
Dentists Dr. Mariliza LaCacap, her husband Dr. Darren Tong, as well as the rest of their team, will be providing free dentistry for members of the community who do not have the means to pay for regular dental care.
This is an annual initiative they have been taking as a way of paying it forward to the Bergenfield community, a town their office has been servicing for over 30 years. Washington Dental Associates is one of the few dental offices in the Bergen County area that holds a program like this.
"It's heartbreaking to see a child's smile destroyed by severe tooth decay," said Dr.Tong, a pediatric dental specialist. "Imagine not being able to eat, sleep or pay attention in school because you have a mouthful of toothaches."
The event will be on a "first come, first served" basis beginning at 9:30am and running until 3pm. Each person will be able to receive one free filling, extraction, or dental cleaning. "We chose the month before Thanksgiving for our Day of Free Dentistry because we are so thankful for the blessings that we have received throughout our dental careers." Dr. LaCap said, "Our entire team is excited to be able to give much needed care to those who cannot afford the treatment. As a growing number of Americans are out of a job or just don't have the financial means to afford proper dental care, we felt this was a great way to help address the problem and to pay it forward to the Bergen County community."
"Our goal for the day is simple – make people smile. Believe me, the smiles and thanks we receive from all the people we treat make the hard work one of the most rewarding experiences of our lives." said Dr. Tong.