Implant-Retained Dentures – Tappan, NY
Offering Functionality and Stability for Your Smile
If you've been living with traditional dentures and are ready for a stable, more functional solution for your missing teeth, there is an alternative – implant-retained dentures in Tappan! Our team at Smile More Dentistry can provide a thorough examination to determine if this method of treatment is right for you. If so, you'll be on your way to a longer-lasting, more natural-looking smile. Using titanium posts that mimic your natural tooth root, we'll surgically place them into your jawbone for added stability before securing a beautifully made, custom prosthetic that will blend in seamlessly with the rest of your smile. To schedule a consultation with one of our dental professionals, contact us today!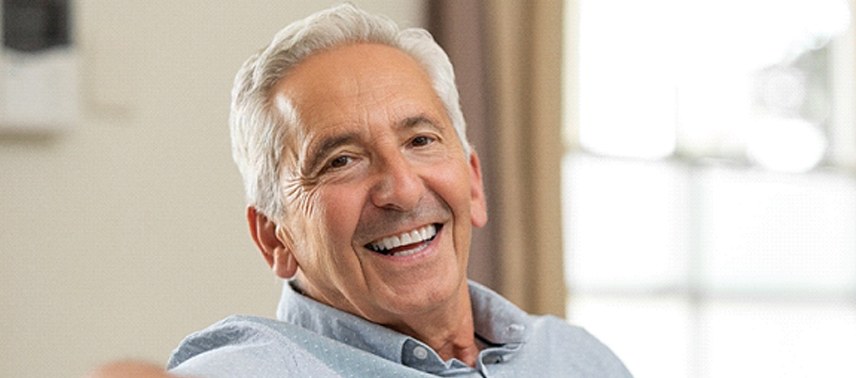 Why Choose Smile More Dentistry for Implant-Retained Dentures?
Start-to-Finish Procedure Under One Roof
Customized Prosthetics Made for Your Individual Needs
Alternative Solution for Traditional Denture-Wearers
How Do Implant-Retained Dentures Work?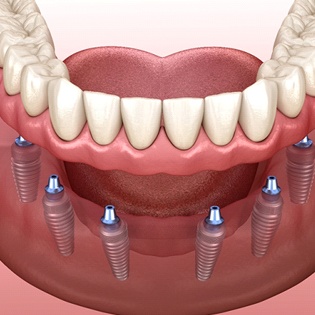 If you want a smile that looks and feels completely natural, makes it possible to eat and drink with confidence, and doesn't require frequent visits to the dentist office for relining or readjusting, look no further than implant-retained dentures.
Your dentist will use between 4 and 6 dental implants, which are titanium posts that act just like your tooth's root. A customized denture will be secured to the top of your implant, creating a beautiful smile. Because of their surgical placement, dental implants in Tappan create more stability than traditional dentures. No more natural suction needed to keep these restorative methods in place!
Am I a Candidate for Implant-Retained Dentures?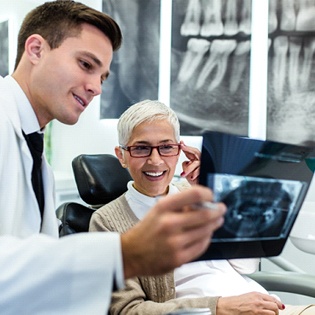 Individuals who exhibit the following can most likely qualify for implant-retained dentures:
Overall good oral health
A strong, durable jawbone
Do not smoke
It's imperative for an individual to have a strong jawbone because it serves as the foundation for your implant placement. Without a durable base, your implants can become loose and result in implant failure. If we find that your bone isn't as strong as it should be, you can undergo a bone grafting procedure (or sinus lift if you need an upper implant-retained denture). This will provide additional support by using bone minerals to encourage bone growth.
If bone strength isn't the issue but oral health or even a weakened immune system is keeping you from dental implants, it might be necessary to pursue another method of treatment. Patients with gum disease or tooth decay should have the appropriate procedures done prior to receiving implants.
However, if you have diabetes or an autoimmune disorder, we will most likely suggest another form of treatment to replace your missing teeth.
The Implant-Retained Dentures Procedure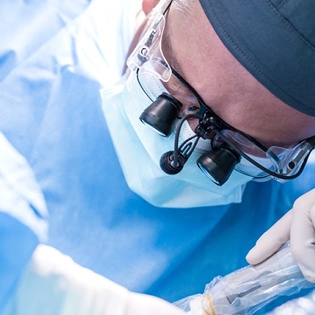 When you arrive for your implant-retained denture procedure, we will begin by discussing your goals and what you hope to achieve with this type of restorative treatment. Crafting a plan, our dentists will use the impressions captured of your mouth and send them to the dental lab, so their technicians can begin creating your custom denture.
We will then begin by making several small incisions in your gum line, exposing the bone. Carefully, we will place each implant into the appropriate position. Then, we will stitch up the area and send you home to spend anywhere from 3-6 months of healing. This will also be a time when the bone and implant will fuse together, along with area tissues.
Returning to our office after you've fully healed, we will place abutments, which are small appliances that attach the implant and the restoration. Finally, to create the finalized look, we will secure your custom-made denture into place.
Benefits of Combining Dentures & Dental Implants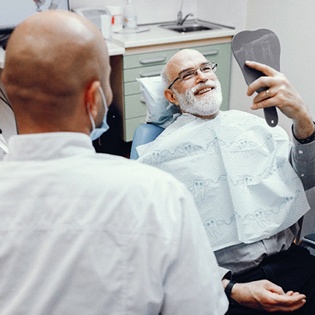 In order for you to feel confident about your decision to move forward with implant-retained dentures, here are several benefits:
Improved facial appearance
Increased confidence
Greater stability
Improved functionality
Longer-lasting restoration
Better oral health
A natural look and feel