Implant-Retained Bridge – Tappan, NY
Restoring Smile by Removing Gaps
The dental professionals at Smile More Dentistry know that having multiple missing teeth can result in lower self-esteem and declining oral health, which is why they provide a multitude of treatment options. But for patients who want a permanent restoration that looks and feels like natural teeth, there's no better solution than an implant-retained bridge in Tappan. Using titanium dental implants, our team can restore smiles from the roots up, giving patients improved oral health and a more aesthetically pleasing smile. If you're ready to get started, call us today to schedule a consultation and find out if you are a qualified candidate for an implant-retained bridge.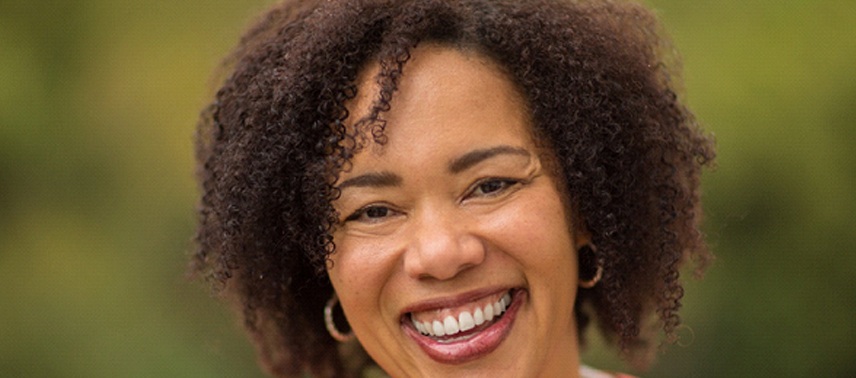 Why Choose Smile More Dentistry for an Implant-Retained Bridge?
The entire process is completed all under one roof
Custom-made implant-retained bridge
Individual treatment plans based on your dental needs
What Are Some Non-Implant Tooth Replacement Options?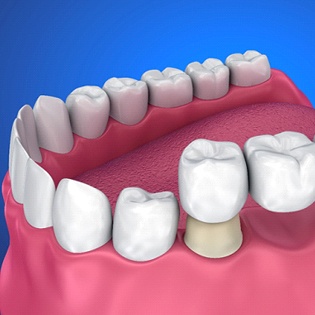 At Smile More Dentistry, we understand that surgical solutions are not meant for everyone, which is why we offer alternative treatment options for individuals who prefer a less invasive option.
Dental Crown & Bridge
Using multiple dental crowns that are fused together to create a bridge, we will use your natural, healthy teeth that exist on both sides of the gap as anchors for your restoration. Once we file these teeth down to ensure a proper fit, we will place the bridge over the healthy teeth. The remaining crowns will sit on top of your gums to create the look of a complete smile.
Partial Dentures
If you prefer that your healthy teeth remain untouched, you can find help with partial dentures. Using an acrylic, gum-colored base, artificial teeth will be placed along the base to fill in the gaps left by missing teeth. Using clasps or clips, the prosthetic will be attached to healthy remaining teeth, securing it in place and giving you a restored smile.
Full Dentures
If you have multiple missing teeth and your remaining teeth need to be extracted, you will find that traditional dentures are much better before. While some patients still prefer to use dental adhesive for extra security, their new and improved design makes it possible for your natural suction to be enough to hold them in place. Traditional dentures are designed in the same way as partial dentures, only there are no clasps or clips to hold them in place.
The Dental Implant Process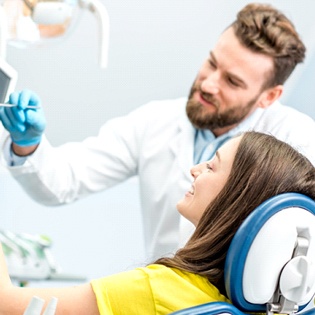 In order to place an implant-retained bridge, we will first schedule a consultation between you and a member of our dental team. This will allow us the opportunity to examine your smile, formulate a treatment plan, and provide you a cost estimate. As long as we determine that your jawbone is strong enough and your oral health is in good shape, we can move forward with placing the implants.
Determining the location of your missing teeth, we will surgically place two titanium posts into your jawbone, creating a solid foundation for your restoration. Once we've closed the surgical sites, you will return home for a period of 3-6 months to heal. During this time, the dental implants in Tappan will fuse with the bone and surrounding tissues.
Once you are fully healed, our team will examine the implants and place the appropriate abutments to help secure the restoration in place. Finally, your custom-made implant-retained bridge will be secured. Our dentists will inspect the prosthetic to make sure the color, size, and shape are correctly matched to give you a beautiful, blended, fully restored smile.
Benefits of an Implant-Retained Bridge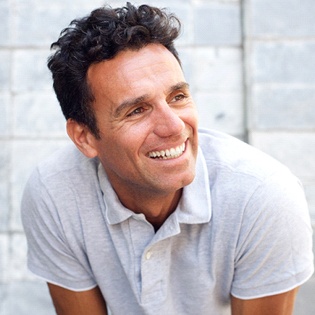 Greater oral health by continuing to stimulate the jawbone and prevent deterioration
Improved appearance
Increased confidence
Easy to clean and maintain
Fewer food restrictions
Natural look and feel
No chance for your prosthetic to decay