Dental Implants – Tappan, NY
Tooth Replacement That Lasts for a Lifetime
For decades, patients with missing teeth were only able to get restorations that replaced the part that could be seen. While these helped with aesthetics, they were inherently less stable than natural dental structure and usually wore down quickly. Thankfully, dental implants have provided a solution for both of these issues. They bring back an entire tooth both above and below the gum line, making them extremely durable and secure within the mouth. At Smile More Dentistry, we've already used implants to help countless patients reclaim their bite and confidence at the same time, and we're ready to do the exact same for you. To learn more about this state-of-the-art treatment, contact us today.
Why Choose Smile More Dentistry for Dental Implants?
All-Inclusive Care: Everything You Need Under 1 Roof
Premier Craftsmanship: Results That Look Great & Will Truly Last
Personalized: Treatment Plans Specially-Designed for Each Patient
Start to Finish Convenience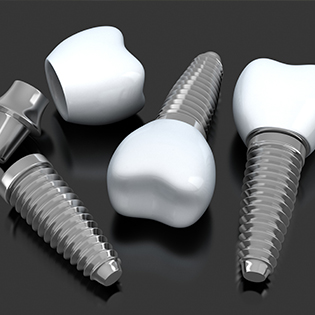 At Smile More Dentistry, we pride ourselves on being able to offer absolutely everything a patient needs when it comes to their dental care, and that includes the entire dental implant procedure. Unlike other offices that will force you to visit an outside specialist, we're able to provide both the surgical placement of the new roots as well as attach the restorations right here in our Tappan location. This one-stop approach is not only more convenient, but faster as well, helping patients recover their smiles while spending less time and money running between different practices.
Benefits of Dental Implants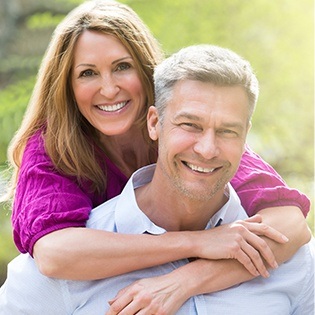 Dental implants offer several unique advantages compared to traditional treatments, which is why they are the first recommendation we make to every patient with missing teeth:
Dental implants are the only treatment that replaces both the root and crown of a tooth. A small titanium post is positioned within the jawbone similar to a tooth root, and this provides support for a new crown, bridge or denture.
Thanks to this foundation, patients never have to worry about their teeth slipping or breaking.
Our implants are always topped with custom-made porcelain restorations, enabling them to look like a natural part of the smile and fully blend in.
Implants are also able to prevent and even reverse the jawbone loss that is common after tooth loss—no other treatment can do this!
Taking care of implants is simple-- all a patient has to do is brush and floss like normal to keep their restorations looking and functioning like new.
With the proper care, implants have been shown to last for decades on end, and in many cases, for the rest of a patient's life.
Indications for Dental Implants
Are dental implants right for you? Ideally, candidates need at least three things: good dental health, stable overall health, and enough jawbone to hold the new roots. We can help patients who are lacking any of these, and once they are approved for the treatment, we can use the following restorations to renew their smile:
Missing One Tooth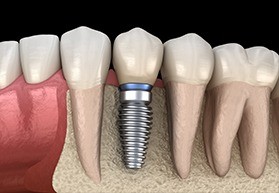 We can secure an all-porcelain crown to a dental implant root and place it between two healthy teeth without disturbing them at all. This is much more conservative versus a regular bridge, in which the surrounding dental structure has to be filed down in order to hold the prosthetic.
Missing Multiple Teeth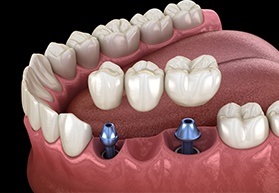 Whether you are missing teeth throughout your mouth or right next to each other, implants can also be used to hold a variety of prosthetics in place. Implant bridges and partial dentures not only have a much stronger hold compared to regular ones, but they have also been shown to function better and last longer as well.
Missing All of Your Teeth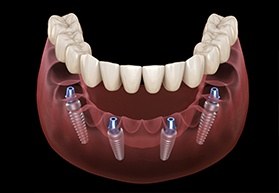 A full denture can be secured to the jawbone using just four to six strategically-placed implants. Implant-retained dentures are much smaller and leave more room in the mouth than traditional ones, meaning they are more comfortable, plus they restore more of a patient's original bite strength as well.
Understanding the Cost of Dental Implants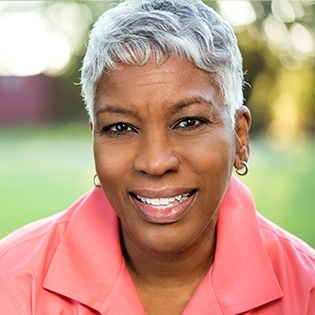 Our dental implant treatment plans are personally designed for each patient based on their unique needs, so there is no one fixed price for the treatment. Everything from the number of implants needed to the type of restoration used can affect the cost. Before you begin treatment, our team will go over all pricing information with you so you'll know exactly what to expect at each step of the process.
While it's true that dental implants tend to be more expensive upfront compared to other options, they actually help patients save money over time thanks to their longevity. Regular bridges and dentures typically need to be completely redone every five to seven years, compounding their lower initial cost, while implants can easily last for 30 or more. In the end, implant patients typically end up spending thousands less on maintaining their new teeth.