Replace Missing Teeth – Tappan, NY
Close the Gaps & Renew Your Smile
Nothing makes you realize just how important your teeth are to your day-to-day life than when one or more go missing. Suddenly, your diet is limited, certain words are difficult to say, and you find yourself thinking twice before smiling. Whether you're missing a single tooth or all of them, the team at Smile More Dentistry is ready to help you rebuild your oral health and confidence at the same time using a treatment custom-made just for you. From traditional bridges and dentures to state-of-the-art dental implants, whatever you need to enjoy a complete smile again, you'll find it right here in Tappan. To learn more about your options and schedule a consultation, give us a call today.
Why Choose Smile More Dentistry to Replace Missing Teeth?
World-Class Craftsmanship: Restorations Custom-Made for Each Patient
Entire Implant Procedure Completed Under 1 Roof
Partnered with the Best Dental Labs in Tappan
What Happens if I Do Nothing?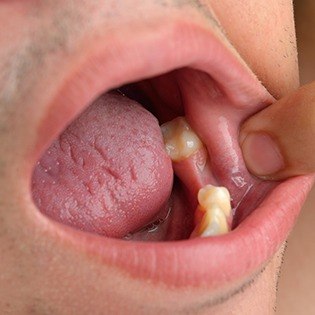 A single missing tooth might be easy to ignore, especially if it can't really be seen in the smile, but untreated tooth loss can cause all sorts of problems for someone's oral health over time. The surrounding teeth will gradually shift into the gap, causing them to misalign, and the exposed gum tissue is much more likely to develop an infection as well. The end result? Even more tooth loss! Thankfully, you can prevent this from happening to you by replacing your missing teeth as soon as possible, which will save you both time and money in the long run.
Dental Implants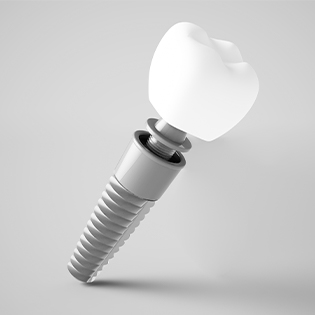 Over the past two decades, dental implants have become the gold standard when it comes to tooth replacement. Why? Because they do something that regular dentures and bridges simply can't: replace an entire tooth. A small post positioned within the jawbone acts as a new tooth root to support a crown, bridge, or denture, and this creates something that looks, feels, and functions just like natural teeth. Plus, with minimal maintenance, a dental implant can be trusted to last for decades on end, giving a patient countless happy smiles in the process.
Learn More About Dental Implants
Dental Bridges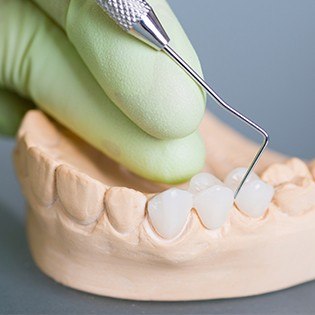 Dental bridges get their name from the fact that they literally bridge the gap left by one or more missing teeth in a row. Prosthetic teeth are secured within the mouth using crowns placed on either side as anchors. They are designed to seamlessly blend with the rest of the smile aesthetically, and they're also strong enough to stand up to normal chewing forces. With us, patients have the option to get a traditional bridge or one secured with dental implants.
Learn More About Dental Bridges
Facelift Dentures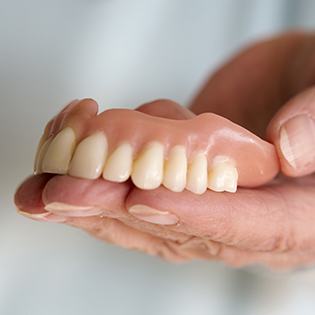 Dentures have the ability to replace several missing teeth throughout the mouth or even an entire dental arch. The custom-made prosthetics of today are much better than the kind your parents or grandparents might have worn, consisting of strong ceramic teeth attached to a base that's designed to look like gum tissue. The end result is a set of teeth that is not only complete but looks great and can be trusted to last as well.