Dentures – Tappan, NY
Eliminating Gaps in Your Smile
Are you living with damaged or severely decayed teeth? Feel embarrassed by the gaps in your smile? Worried your oral health will continue to decline because of your missing teeth? At Smile More Dentistry, our team is here to help you overcome the negative impact of an incomplete smile by recommending dentures in Tappan. These beautiful, custom-made restorations are designed to ensure a comfortable fit and pleasing aesthetic, allowing you to regain necessary functionality and confidence. To learn more about full and partial dentures, contact our office to schedule an appointment today.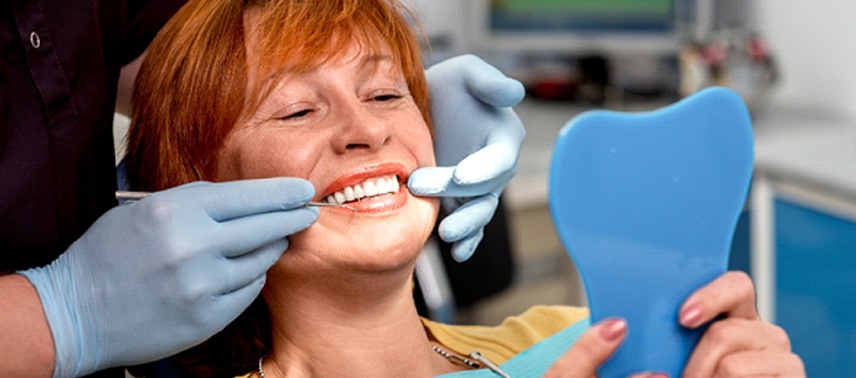 What Are Partial Dentures?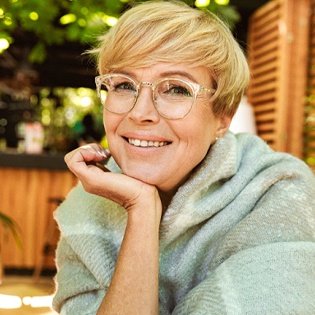 If you are missing multiple nonconsecutive teeth, you may be wondering what solutions are available that will restore the look of your smile? Since a fixed bridge and a full denture are not suitable options, you can achieve a more complete look with the help of a partial denture. These puzzle-piece restorations are referred to as "partials," and they can easily fill in the gaps along your top or bottom arch, allowing you to enjoy a fuller appearance and functional smile.
How Partials Work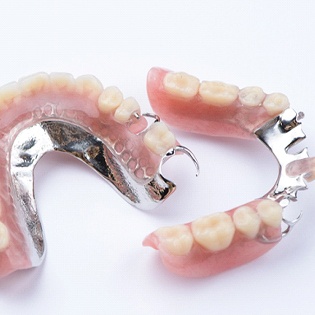 When preparing to receive a partial, you will first visit your dentist in Tappan for a consultation. They will examine your oral cavity and facial structure to determine how many teeth are healthy and identify those that can serve as stable anchors for your restoration. You will have impressions taken of your bite that will be sent to a dental lab. There, technicians will fabricate your partial using an acrylic gum-colored base and artificial teeth that are bonded into place.
Once it arrives in our office, you will return to have your finalized partial put into place. Metal clasps or clips will attach to the healthy teeth, allowing you to feel more confident in your smile.
What Are Full Dentures?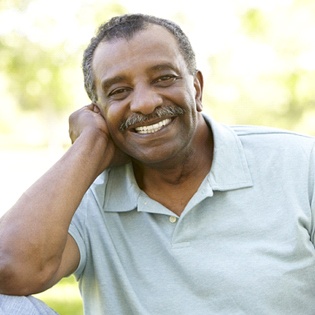 If you are missing an entire arch of teeth along the bottom or top row of your mouth, you may be experiencing problems eating and/or speaking. To remedy this issue, you may be eligible to receive full dentures. Much like partials, these restorations are custom-made according to your individual needs and can easily replace missing teeth along the top or bottom arch of your mouth. Using your natural suction to remain in place, some patients prefer to purchase a dental adhesive for added security.
How Dentures Work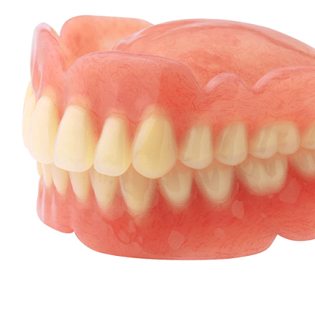 When preparing to receive dentures in Tappan, you will meet with your dentist to discuss your eligibility. After a thorough examination of your gum health and bone density, we will take impressions of your bite and measurements, both of which will be sent to a dental lab for technicians to use when creating your custom restoration. Using the information provided, the technicians will set artificial teeth into a gum-colored base that will be created in the shape of a horseshoe (for the lower arch) or one that covers the entire palette (for the upper arch). Once received by Smile More Dentistry, we will invite you to come in and sit for a proper fitting. Once you achieve a perfect fit, we will provide you with the necessary details to keep your dentures in optimal condition.
What Are Implant-Retained Dentures or Partials?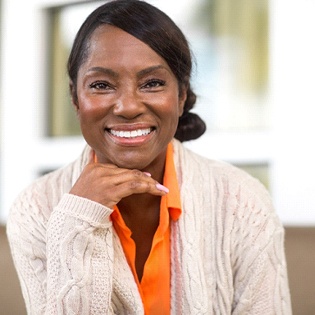 If a removable restoration isn't what you envisioned, there is an alternative solution that offers greater permanence, durability, and functionality. With implant-retained dentures or partials, you can enjoy a more stable prosthetic that not only replaces the visible portions of your smile but also mimics the natural tooth root and encourages continuous stimulation to your jawbone.
How Implant-Retained Dentures Work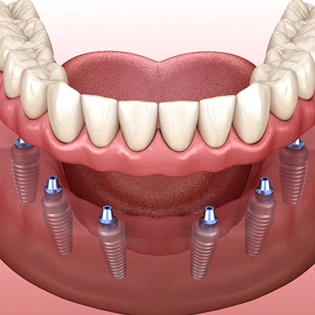 If dental implants are the ideal solution for your missing teeth, you will first undergo a consultation with our team at Smile More Dentistry. After thoroughly evaluating your jawbone density, gums, and teeth, we will determine if you require a bone graft to strengthen your bone. Because missing teeth can lead to a weakening of this area of your face, it is necessary you have a strong foundation before moving forward with implants.
If you are given the green light for surgery, you will then have your dental implants put into place by a skilled member of our team who will make one or more small incisions in your gums before carefully positioning each implant in the desired location. After closing the gum tissue, you will be sent home to recover for several months, allowing the implants to fuse with your bone and surrounding tissues.
Once you are fully healed, you will return to have your customized implant-retained dentures secured into place.
Understanding the Cost of Dentures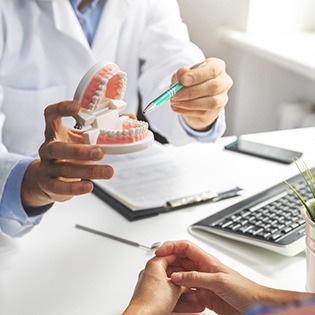 While you might be looking forward to enjoying the benefits of restoring your smile, it's important to understand how much you'll need to pay for the treatment. Every patient's dental situation will be unique, so there won't be a set fee for the cost of dentures in Tappan. To receive an accurate price estimate, you'll first need to schedule a consultation with our team. We will thoroughly assess your oral health and develop a specific treatment plan to address your dental needs. We'll also walk you through your financing options to help make your restoration more manageable. Until then, here's what you should know about the cost of dentures.
Factors That Affect the Cost of Dentures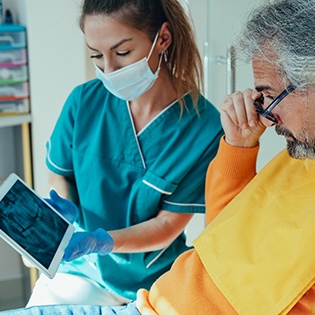 During your initial consultation, our team will create a precise cost estimate based on several major factors, including:
Preliminary Procedures – You'll need to have a healthy mouth before moving forward with your dentures treatment. Depending on any issues we may detect, you may require procedures like gum disease treatment or tooth extractions first.
The Type of Denture – The appropriate kind of denture will be based on the number of missing teeth. The more teeth that need replacing, the higher the cost of treatment.
Materials Used – Our team only uses the highest-quality materials to replace your missing teeth. This may increase the upfront value, but you'll expect comfortable, efficient, and lifelike results.
Are Implant Dentures More Expensive?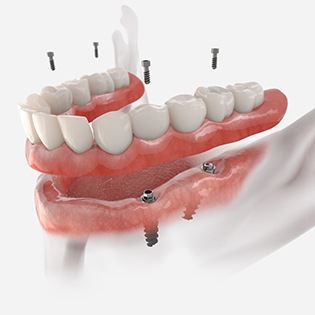 Other than traditional dentures, which sit atop the gum line, implant dentures rely on titanium posts that have been embedded into the jawbone beforehand. This will provide your restorations with the stability they need to function for many years to come. Implant dentures do come with a higher cost than traditional ones, but they can typically last several decades to a lifetime with proper care. You also won't need readjustments or replacements as often, making this a cost-effective solution in the long run.
Does Dental Insurance Cover Dentures?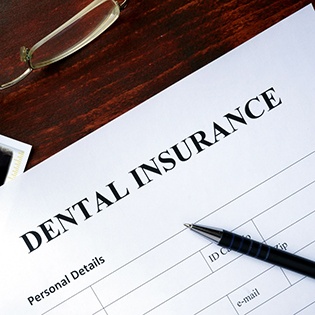 Although dental insurance policies vary from patient to patient, the majority of them will offer coverage for dentures. These restorations are considered "essential" restorative care, so you can expect around 50% of the final cost to be covered by your provider in most cases. However, you'll still want to confirm the details of your policy with your insurance company before committing to your treatment. Our team can also help you navigate your plan and help you make the most of your benefits to minimize your out-of-pocket expenses!
Other Options for Making Dentures Affordable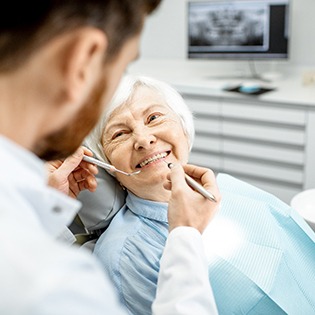 Even if you don't have dental insurance, it doesn't mean dentures will be completely out of reach. Our team offers a variety of alternative financing options that can help make the cost of your treatment work within your budget. We can offer $75 for dental treatments if your dental insurance doesn't pay. You can also consider signing up for third-party financing, such as CareCredit and Smile Savings Club, which can break up the total cost of treatment into monthly payments with little to no interest! With these options, you'll be able to afford dentures without having to empty your wallet.
Denture FAQs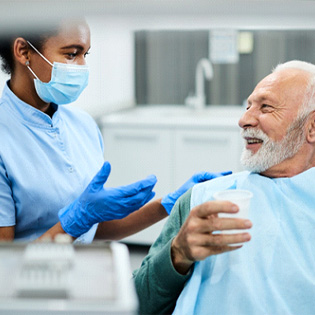 If you're struggling with missing some, most of, or all of your pearly whites, then dentures can be the life-changing solution you need for restoring your smile. While you can be sure to appreciate many benefits from this tooth-replacement option, you'll want to be well-informed about the treatment before jumping on board. That's why our team at Smile More Dentistry has collected and answered some of the most commonly asked questions we get about dentures in Tappan. Read along to learn more about this restorative solution or give us a call if you don't see the information you're looking for!
Will It Hurt to Get Dentures?
Only if you require having teeth pulled before getting dentures should you expect to experience some discomfort after the procedure. That said, you can manage any pain by taking over-the-counter and prescribed pain relievers as instructed by your dentist. Whenever you first wear your new dentures, you may feel some minor irritation as your mouth gets used to your new oral appliance. If transitioning to a new set of dentures, this process can take a bit longer, but it depends on the patient's specific situation. Should you experience any persistent discomfort, don't hesitate to give us a call. We'll be able to address any underlying issues and ensure your dentures are as fitting as they should be.
Is It Hard to Talk with Dentures?
It can take some time to get accustomed to speaking with your new dentures, especially since your tongue is more used to talking with your natural teeth. The exact amount of time for learning to speak with these restorations varies from patient to patient. However, the more you practice, the quicker your adjustment process will be. Try repeating words and phrases that are difficult to pronounce and reading to yourself out loud. Once you've gotten the hang of this, you can move on to conversing with others to build your skill and confidence. Be sure to speak slowly at first since faster speech can often sound muffled if you aren't accustomed yet.
Can I Sleep with My Dentures?
Most dentists highly recommend taking off your dentures before going to bed. You'll usually need to keep your restorations in your mouth for the first 24 hours after receiving them, including when you sleep. After that, you'll want to remove them every evening. Wearing dentures will typically restrict blood circulation to your gums, which can result in soft tissue irritation and even speed up ridge resorption. By taking them out overnight, you give your gums a break to recover and get the necessary nutrients to remain strong and healthy. Additionally, bacteria can easily thrive in dark moist areas, meaning they can collect and grow underneath your dentures if you leave them in while you sleep. To avoid serious health issues like pneumonia, it's best to take them out (and soak them) before bed.
Can You Still Eat Steak with Dentures?
It's usually difficult to chew tough meats with dentures, such as steak. That said, you may still enjoy your favorite foods by taking the proper precautions. Be sure to choose tenderloin or some other beef cut that doesn't have as many muscle fibers and connective tissues. These components can make your steak harder to chew, increasing the risk of your dentures shifting out of place. Once you confirm the meat has been thoroughly tenderized, cut it into smaller pieces, and you should be able to eat it more comfortably.