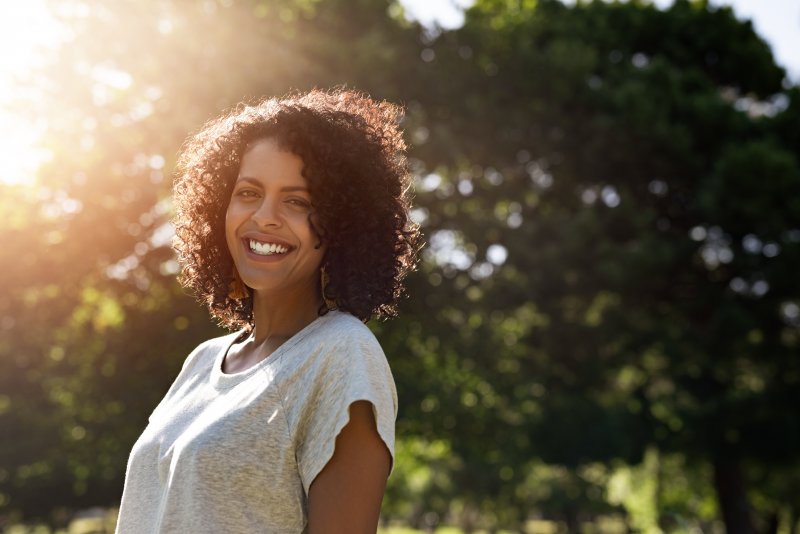 You want a smile that will stand out in a crowd. You want to feel confident in the way you speak and approach people. You want to make a memorable first impression, not only with your personality but also with your smile. How can you do it? With cosmetic dentistry in Tappan! Even if you're dealing with chips, cracks, stains, or minor gaps, you can opt for one of the many available services aimed to improve your aesthetics and give you a beautiful, show-stopping smile. Read on to learn which traits will ensure your teeth and gums capture the attention of others.
The Color of Your Teeth
Stains and discoloration are not always unavoidable. While dark-colored beverages and poor lifestyle habits (i.e. smoking, using tobacco) can quicken the decline of your tooth color, aging can also play a part in how your teeth appear. Whether plagued with "pearly whites" that appear yellow or gray, you can talk to your dentist about various cosmetic services that will boost their color and give you a more vibrant smile. From teeth whitening to veneers or Lumineers to dental bonding or crowns, the choice is yours.
How Your Gums Appear
Worried your "gummy smile" will cause people to shy away? It's not always your teeth that can make you self-conscious about the way you look. Fortunately, there is a way to combat this problem. With gum recontouring, your cosmetic dentist in Tappan can easily remove excess gum tissue and create an even appearance that will give you a more pleasing aesthetic and reduce your risk for gum disease.
The Spacing of Your Teeth
If you were told as a child that the small gap between your teeth was simply "adorable," you're likely not hearing that same compliment as an adult. Instead, this extra space is probably causing more oral health problems and lowering your self-esteem. The good news is that you can close the gap with the help of orthodontics. No matter if you choose traditional braces or clear aligner systems like Invisalign, your dentist can design a treatment plan that will bring your teeth closer together, minimize your risk for tooth decay and gum disease, and give you a look that will make you the envy of others.
Your Bite Alignment
Do your upper teeth protrude out over your bottom teeth? If you have an overbite, underbite, crossbite, or open bite, it can negatively impact your smile and its appearance in many ways. From excessive wear and tear on your tooth enamel to chronic jaw pain and temporomandibular joint disorder (TMD), these misaligned bites can wreak havoc if left untreated. If you're ready to do something about your bite, it can be helpful to talk to your dentist about orthodontic treatment, as this will move your teeth in the appropriate direction, giving you a more symmetrical and beautiful smile.
Your dental midlines, the way your teeth tilt, and the color of your gums can all make a difference in how you and others view your smile. Fortunately, these aesthetic issues can all be treated using the right method of cosmetic treatment. If you're ready to say goodbye to the imperfections, talk to a member of your dental team about how you can get started.
About the Practice
At Smile More Dentistry, our team of dentists believes in helping all patients achieve healthy, beautiful smiles. This is why we offer an array of cosmetic dentistry services to transform teeth and gums into stunning works of art. Whether you prefer veneers, teeth whitening, gum recontouring, or a complete smile makeover, you can expect long-lasting results that will improve your quality of life. To find out what services you are eligible to receive, visit our website or call (845) 675-1512.