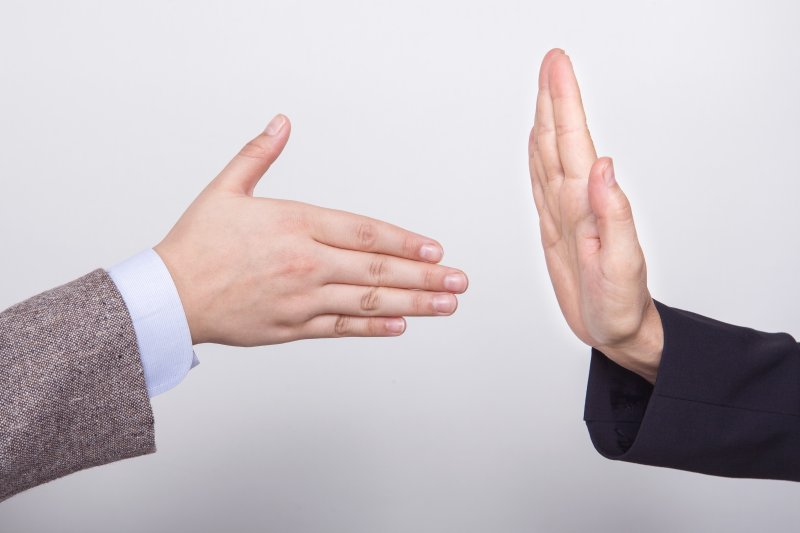 The next time you see your dentist in Tappan, don't expect to be able to run up and offer a handshake or high-five. With COVID-19 continuing to pose a worldwide threat, certain protocols and safety measures are being put into place to not only better protect you but dental team members as well. Although it may seem unwelcoming or "off-putting" you can trust that your dentist is happy to see you and wants things to return to normal as much as you do. But for now, spend some time learning why contact-free greetings are best and which ones you can use when arriving for your next appointment.
What is the Problem with Regular Handshakes?
It's not just handshakes that are the problem. It's also hugging, high-fives, and being in close contact of any kind with anyone outside your home. Germs, bacteria, and viruses can easily attach to various areas of the body, especially the hands. Because dentists must use them to effectively do their work each day, it is necessary that they keep them as clean as possible.
As one of the many dental office protocols, staff members will be wearing personal protective equipment (PPE) when administering treatment. One of these PPE is latex gloves, and it is best if nothing else (i.e. bacteria, viruses) touch this material, as it could be easily spread into your mouth and cause you to become sick.
How to Greet Your Dental Team
If you're sad about the idea of not being able to hug your favorite hygienist or dentist, consider trying one of these methods to say "hello" without making physical contact:
Elbow bump – This common greeting is being used by people throughout the world as a way to say "hey." Although individuals are discouraged from making contact at all and instead, staying at least 6 feet apart, an elbow bump allows people to avoid using their hands to make contact.
Namaste greeting – Known as a peaceful way to greet another individual, it is most commonly seen in yoga classes and in some Middle Eastern countries. By placing your palms together and extending your fingers upward, a slight head bow with your hands near your chest will convey that you are happy to see your dental team while keeping your extremities to yourself.
Air high-five – Your dentist may be pleased with the work you've done during quarantine to keep your oral health in good shape, but don't expect a high-five as a form of praise. Instead, you might receive an air high-five or a simple "good job."
Teledentistry – If you still are not ready to venture into the dentist's office for a regular checkup or consultation, see if your dentist is offering teledentistry. This easy-to-use method of dentistry allows you to remain at home while talking with your dental professional via phone or computer screen. Not only can you safely say "hello," but you can also still receive the care you need.
Before you arrive for your next appointment, contact a member of the team to find out what steps you can take to better protect yourself and others from COVID-19.
About the Practice
At Smile More Dentistry, our team of dentists believes in making sure everyone is safe and free of COVID-19. As we implement additional protocols regarding cleanliness and social distancing, it is also necessary to avoid any form of physical greeting (i.e. hug, handshake, high-five) during this time. If you want to find out what else we are doing to keep both staff and patients protected during regular visits to our office, check out the website or call (845) 675-1512.