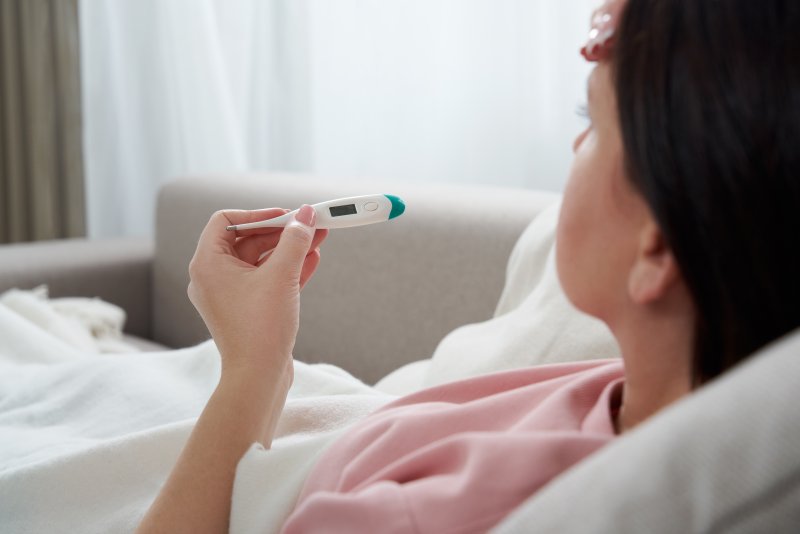 At some point in your life, you've had a fever. Whether when you were a child fighting off the flu or as an adult dealing with a 24-hour stomach bug, the rise in temperature can do all types of things to your body. But since a fever is now considered to be one of the leading symptoms of COVID-19, how do you know if you've contracted the virus or if it's something else like an oral infection? To better understand, an emergency dentist in Tappan explains the symptoms to watch for that will help identify when you need to seek treatment for a serious dental problem.
What Are the Symptoms of COVID-19?
The Centers for Disease Control and Prevention (CDC) and the World Health Organization (WHO) state that the most common signs of COVID-19 are fever, cough, and shortness of breath. This highly infectious disease causes respiratory illness and can spread easily by coming into close contact with someone who is sick with the virus. Whether it is by touching an infected surface then your face or being near someone who is coughing and/or sneezing, it travels through the air.
What Are the Symptoms of an Oral Infection?
While it also highly likely that you will develop a fever with an oral infection, additional symptoms will occur that are not associated with COVID-19, including:
Bad breath/Unpleasant taste
Swelling of the cheeks
Tender lymph nodes in the neck
Tooth sensitivity
Increasing pain when you lie down
Severe pain in the jawbone, ear, neck, and infected tooth
When Should You Seek Help?
If you have an infected or abscess tooth, time is of the essence. Not only can this type of dental issue create increasing problems within your oral cavity, but the effects can lead to a potentially life-threatening situation. Anytime you begin to feel sick, dehydrated, experience headaches, dizziness, fatigue, or even have a rapid heartbeat, this means the infection has spread within the body. Should you develop a fever of 103 degrees or higher, seek immediate medical attention. Children whose fevers are 102.2 or higher and infants who are running a fever higher than 100.4 should see a doctor.
Fortunately, not all tooth infections are quite so serious, but you must have them treated as soon as possible. The longer you wait, the greater you risk facing increased complications. If your toothache lasts longer than one day, or you also experience a fever, swelling, or trouble breathing, make a same-day emergency appointment with your dentist.
Your body's response to an infection will be a clear indicator as to when you should seek immediate care. What can go from a minor dull or ache and low-grade fever can quickly escalate if you are not careful, so it's always better to err on the side of caution when dealing with oral pain and simply call your dentist's office.
About the Practice
Our team at Smile More Dentistry sees all types of dental problems. From knocked-out teeth to serious tooth infections, the signs and symptoms all vary. However, when a fever arises, it can often be attributed to just about any other illness or virus. Fortunately, our dental professionals can easily spot when a fever is due to an oral infection. By offering emergency dentistry services, we can carefully review your mouth and go over your symptoms, generating a full view of the problem and how to fix it. If you suspect you may be running a fever (or are), and you know for certain it is not due to COVID-19, search for a dentist near me and visit our website or call (845) 675-1512 to find out how we can help.