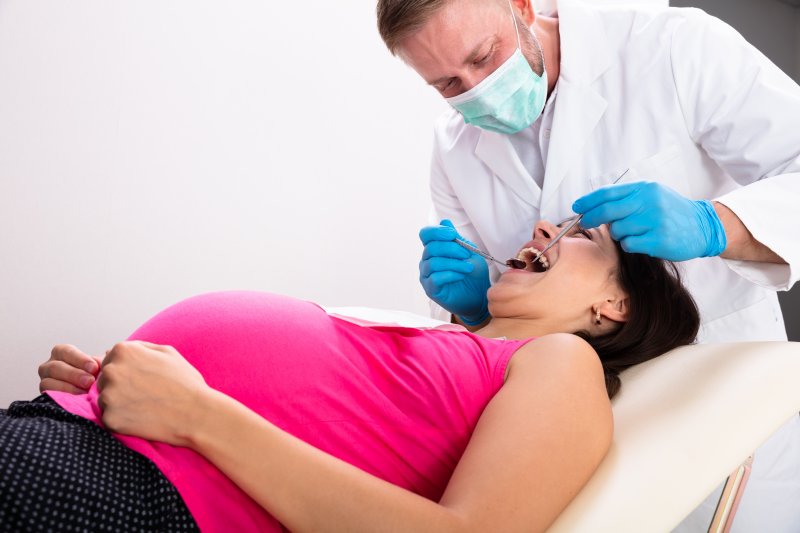 Are you pregnant and wondering if you should see your dentist for your regular checkups or more complex dental work? This is a common question among expectant mothers and has been debated by experts for many years. Because of the many hormonal changes that occur during pregnancy, women are more likely to experience certain oral health problems during these 9 months. Without professional treatment and proper at-home dental habits, a pregnant mother can develop serious problems and pass them on to her infant. Read on to learn whether you should see your dentist now or wait until after your baby arrives.
Gum Disease and Pregnancy
During pregnancy, a woman's hormone levels are continuously rising, resulting in physical changes throughout the body. The most common oral health problem pregnant women face is gum disease. Swelling, bleeding, and reddening soft oral tissues can lead to gum pocket formations and damage to the jawbone and teeth over time. If left untreated, the infection can eventually enter the bloodstream and cause harm to both the mother and baby. In fact, gum disease is known to cause preterm birth.
Is Dental Work Safe While Pregnant?
Yes! It is highly recommended that pregnant women seek regular dental care from a skilled and qualified dentist. Because of the heightened threat of gum disease, women should continue to see their dental professional every six months for regular checkups and cleanings. This ensures that plaque and tartar do not build up on teeth or around the gum line, putting mothers and their babies at risk.
But what about more extensive dental work like fillings or crowns? Even if a woman develops a cavity while pregnant, this type of treatment can be completed safely using the appropriate precautions. While you might assume that waiting until the baby arrives is the best option, the truth is the longer you wait, the harder it will be to not only lie down in the dentist's chair but also better manage the problem. Ideally, the second trimester is the best time to have dental work done, as morning sickness is usually no longer an issue, and most of the baby's organ development is complete.
Of course, if an infection occurs that results in a necessary root canal or tooth extraction, you will need to move forward with treatment as soon as possible. However, if you're looking to have your teeth whitened or veneers put into place, it's better to wait until after you have your baby to pursue these types of elective procedures.
When it comes to medications and dental X-rays, your dentist will determine what is safe and appropriate. Most imaging can be completed once you are no longer pregnant, and while anesthesia is necessary for certain procedures, it's best to have as little as possible to reduce the transference to the baby.
Don't let your growing baby bump keep you from taking proper care of your oral health. Continuing to receive regular checkups and cleanings as well as addressing new and potential problems will ensure you and your baby remain healthy throughout your pregnancy.
About the Practice
At Smile More Dentistry, our team of dentists wants to keep you and your baby safe. While pregnant, we will work with you to establish safe practices while taking great care of your teeth and gums. Ensuring your oral health is in optimal shape is one of the best things you can do for yourself and your child during these nine months. If you are pregnant and need to see a dentist for treatment, visit our website or call (845) 675-1512.