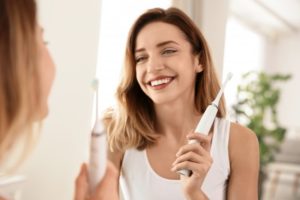 Tooth enamel is one of the most fascinating parts of the human body. It is even harder than bone, and it provides powerful protection for the sensitive dental structures beneath it. However, it is at somewhat of a disadvantage because it cannot regenerate itself if it suffers serious harm. How, then, can it last so long? Let's talk about the remarkable secret behind tooth enamel's longevity and discuss some ways in which you can protect this precious portion of your smile.
Tooth Enamel's Microscopic Structure
A recent study set out to discover how tooth enamel is able to last a lifetime. The researchers used advanced imaging technology to examine the enamel's microscopic structure. They already knew that tooth enamel is composed of enamel rods, and tiny hydroxyapatite crystals compose the individual rods. However, they uncovered a new fact about the tiny crystals within the rods; they are slightly misaligned. The misalignment in the studied samples could be anywhere from 1 degree to 30 degrees.
Upon further experimentation, the scientists discovered that the misalignment in the crystals serves a useful purpose. When one crystal gets cracked, the misalignment prevents the crack from spreading to nearby crystals. Hence, it is reasonable to assume that the microscopic architecture of tooth enamel is one of the biggest reasons why it has the potential to last a lifetime despite constant exposure to the pressures of chewing a variety of foods.
Protecting Your Tooth Enamel
There's no doubt that tooth enamel is durable. However, its microscopic structure is only one of the factors that determines how long it lasts. For example, some people are born with naturally thin enamel that increases their risk of cavities. A person's diet and other daily habits can also have a bearing on how long their enamel lasts.
Here are some tips to help you sure that your remarkable enamel endures for as long as possible:
Visit your dentist at least twice a year for routine preventive care
Eat a diet that is low in sugary and acidic substances
Brush your teeth at least twice a day with a fluoride-containing toothpaste
Floss daily
Consume adequate amounts of calcium and phosphate (minerals that help to strengthen tooth enamel)
Do not bite down on anything extremely hard
Avoid clenching and grinding your teeth (if you tend to do this while you sleep, ask your dentist about getting a custom nightguard)
Tooth enamel is a unique part of human physiology. You can show you appreciate this part of your smile by doing your best to care for it and help it stand the test of time.
Meet the Practice
Drs. Mariliza LaCap and Darren Tong lead the team of dental professionals at Smile More Dentistry. They have decades of combined experience and strive to make every single patient feel at ease in our practice. Together, they provide a host of preventive services, including checkups, cleanings, and patient education. To learn more about our dentists and how they may be able to help you protect your tooth enamel (and the rest of your smile), contact our office at 845-675-1512.